On August 10-12 it's time to party at Furrydelphia! This is their second year and I'm ecstatic to hang out with them once again; they are top-notch people and if you can make it, I would recommend going!
I'm sure many artists out there have their own blogs about what to do and what not to do at such events, but I hope that I can bring something new to the table. So let's quit beatin' around the bush and get down to business!
BEFORE YOUR CON - GENERAL
Have a list of what you need to bring to a convention.
This is advice that has been told time and again, but it bears repeating for a reason. I cannot tell you how many times I've forgotten something like a toothbrush or my charger because my scatterbrain totally forgot! Write it down somewhere you'll know you'll see it like a note on your fridge or in dry erase on your bathroom mirror. My personal favorite way to keep myself together nowadays is a bullet journal; partly because I can customize it however I like and partly because I don't feel restricted by the line-y ness of a composition book.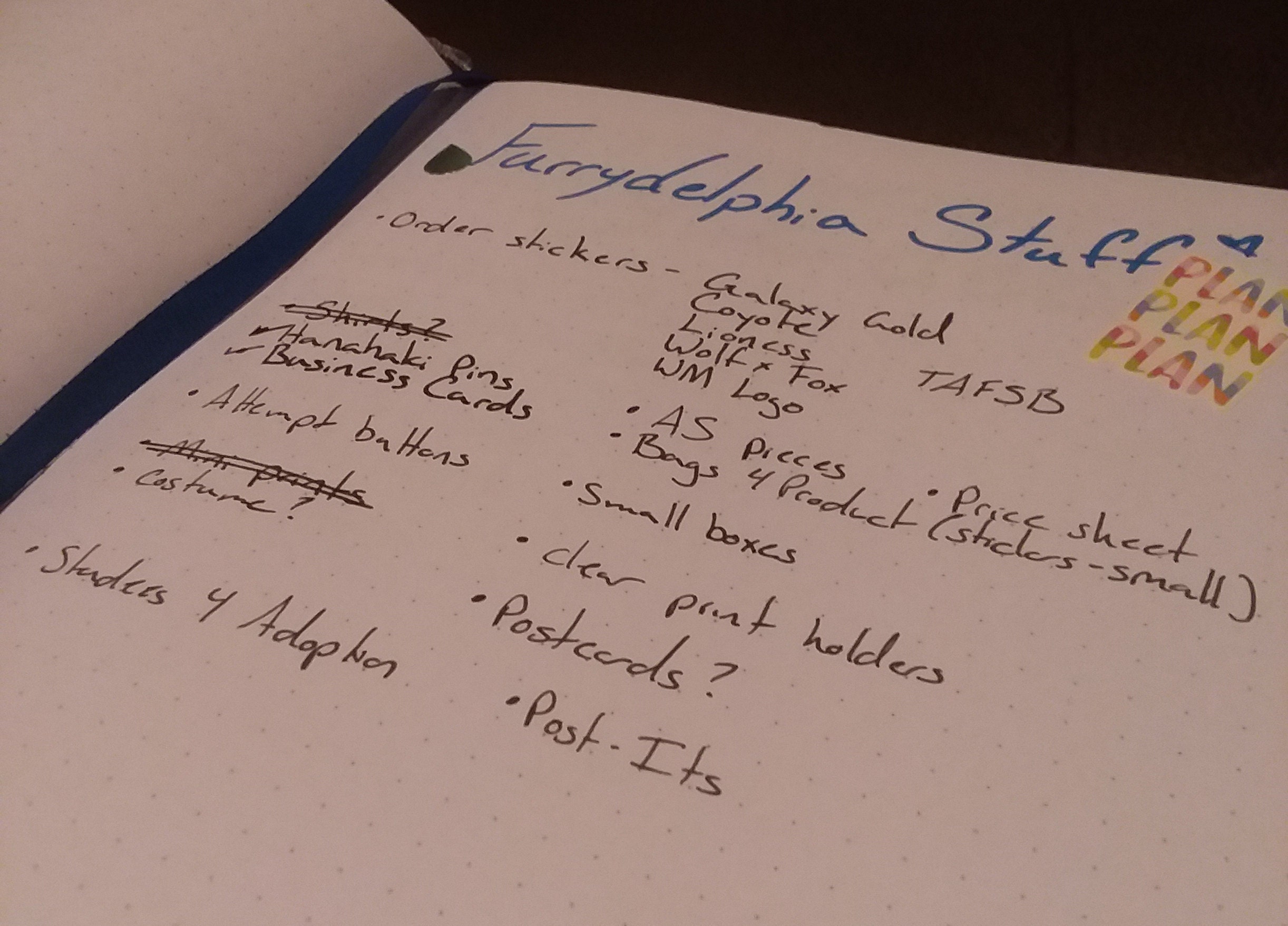 The list above is exclusively for products, something that helps me GREATLY because I have a lot of small things to tote around; a seperate list is used to keep my practical items in order.If you're not sure what you should have in your list, I've prepared a list of the most common things you usually bring to a convention, including items for dealers, those with pets/service animals, and fursuiters.
I've prepared a Google Doc of a checklist I've made. If you're not exactly sure what you should have, starting with this might be good! 
Have the Post Office hold your mail.
If you're flying out or you're staying for an extended  period of time, consider asking the post office to hold your mail. A pile of mail in front of your house signals that nobody is home; bad news bears if you like having an unbroken into abode! If you don't exactly know which one is your post office, ask a friend or a family member to pick up your mail until you come back.
Arrange Pet Boarding
In recent years, I've been seeing disastrous nonsense involving pets at furry conventions. I cannot say this enough - IF YOUR PET IS NOT TRAINED, FOR THE LOVE OF GOD, DO NOT BRING YOUR PET ALONG. DO NOT bring your pet if they're easily nervous, they will become aggressive and you'll have yourself a lawsuit on your hands if they bite another person. DO NOT disguise your pet as a service animal. There are people who need service animals for legitimate issues - bringing your fake service animals delegitimizes real service animals and makes your mama very VERY unhappy.
There are a crazy amount of places that offer pet boarding - a quick Google search will guarantee you results. If you live in an area that uses services like Rover or Wag, you can download the app and have in-home boarding. Or ask a friend or family member. The point I'm making here is that there are options, my dudes!
BEFORE THE CON - ARTISTS + DEALERS
Check all your materials and replace or refill what needs it.
We art folk have a little extra in our arsenal of things to bring. This may include markers and pencils, prints, buttons, or pins. You should always check your supplies and merchandise to see how much you have or if an item needs replacing, but a month or two before your convention is the most critical time. Heaven forbid you're in the middle of a commission and a color you need is out of ink!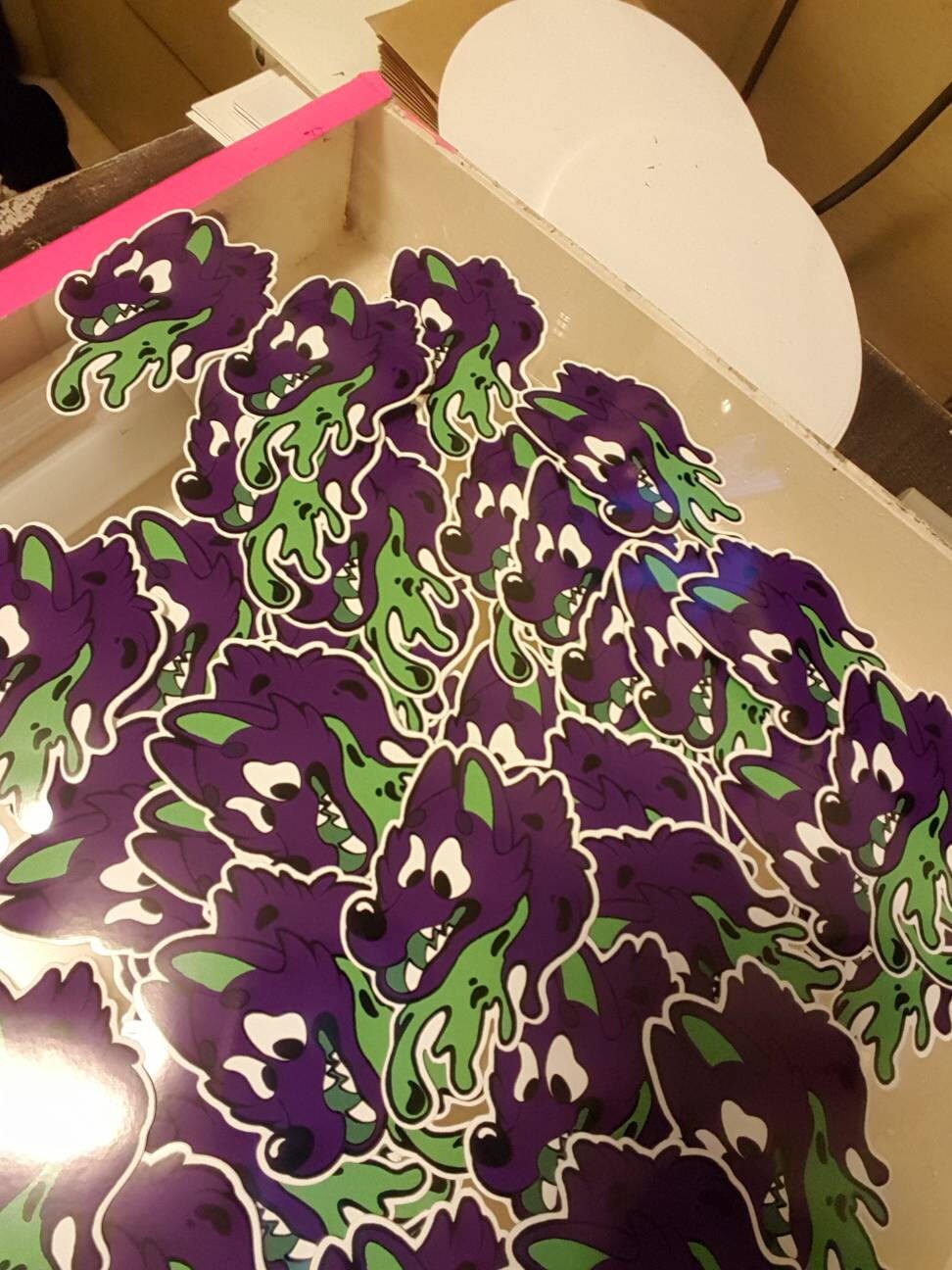 Take stock of your merchandise.
The last thing you need on your head is thinking you have 50 pins when you really have 20. Checking stock is a huge part of a dealer's job - if you don't have the merch, how are you supposed to make that sweet money, honey? Always keep tabs on your merchandise, especially after your last convention. Pick a threshold and order more merch as soon as you get below that point. If you have a limited edition item or con-exclusive, obtain it as soon as possible and keep it safe until the big event.
Apply to your table as early as you can.
Especially if the convention you're planning on going to is a big one! Dealers from all over the state (or even the country) want a piece of that pie - if it's 'first come, first serve' get in as soon as you see the application registration pop up! If it's a lottery deal, still get in early, but keep in mind that you may not be chosen this time around.
Get a hotel room in the con's hotel if you can.
Double points if the convention in question has a 'Staff & Dealer's Block.' These are parts of the hotel sectioned off specifically for Dealers, Staff Members, and other folks that need to be close to the vicinity to keep the convention running smoothly. These sections are the best because they are quieter than other areas of the hotel. This block is also away from the 'Party Block' which is also good for those who have to burn the candle at both ends.
Check to see if you need to register for sales tax in that state.
If this is a convention in a state you sell in less than three (3) times a year, check to see if that convention needs a sales tax number from you. Some states allow you to get a temp sales number. If you go into that state to sell more than three (3) times a year, it's usually required that you obtain a sales and use tax. Check with that state's laws to see what you need to do.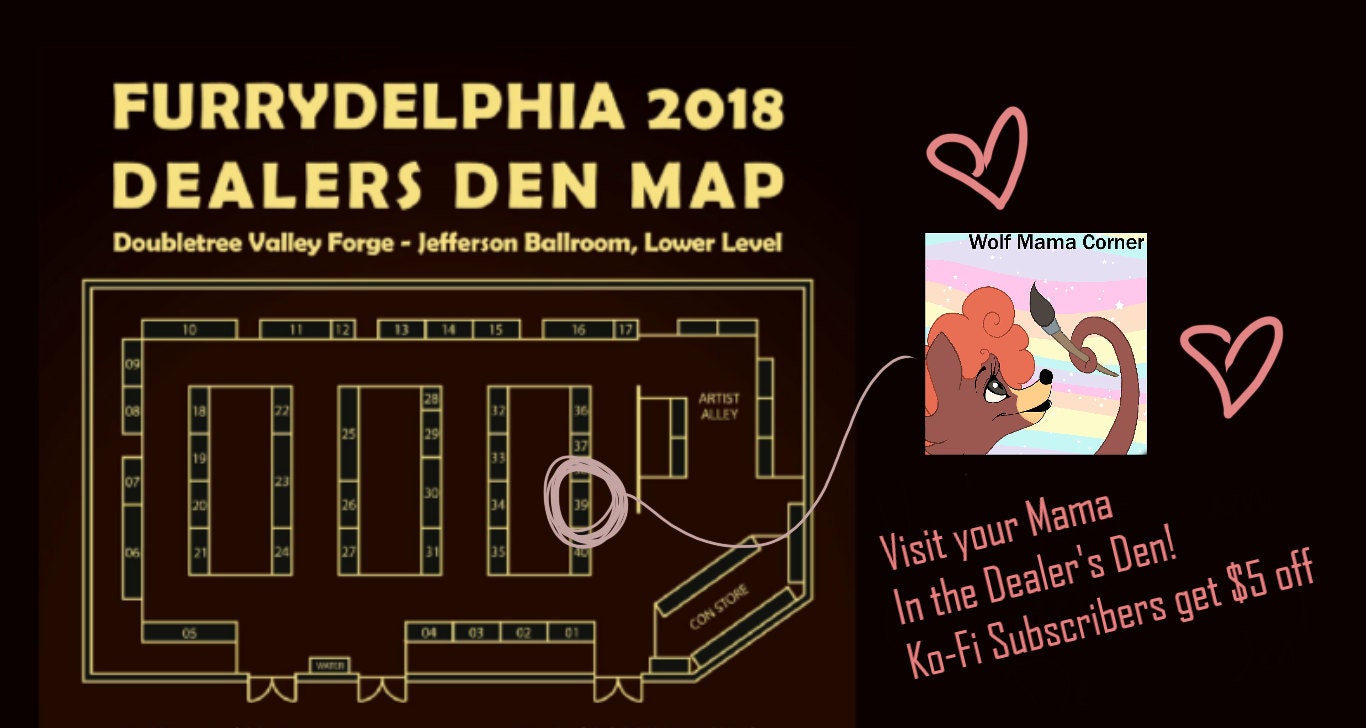 If possible, see where you are in the dealer's room.
You don't get along with that trollop Rebecca. Why did they put you two right next to each other when you requested not to be put next to her? The Dealer's Room Head did their best to put you all in comfortable seating, but they're only human! If you see that you're next to or near someone you're not comfortable with, shoot the dealer's room an email. If that's not possible, inform them as soon as you see the head on Thursday. No one wants to see weave gettin' snatched in the middle of a good time! Another plus to seeing where you are is figuring out how you want to lay out your merch. You might set up one way if you're in the center of the room but another way if you're on the left of it. And speaking of layouts…
Know how you want to layout your table beforehand.
Especially if you have a large set up! Though you may have to do some improvising when you're there, knowing the basic setup is a heck of a lot better than fumbling with ties and displays after a long drive for flight.
There are tons of different suggestions and ideas to prepare for your convention, but these are just some that come to me off the top of my head. I'll be back soon with part two of the Omega Con Post!